COVER FOR THE RECORD BOOK
Determine the dimensions of the notebook. Provide a 0.7 cm perimeter allowance for the braid.
Cut a piece of removed size from the skin (cap, yuft) with the allowance but the braid and two side strips. Handle them with a semiperine on one side.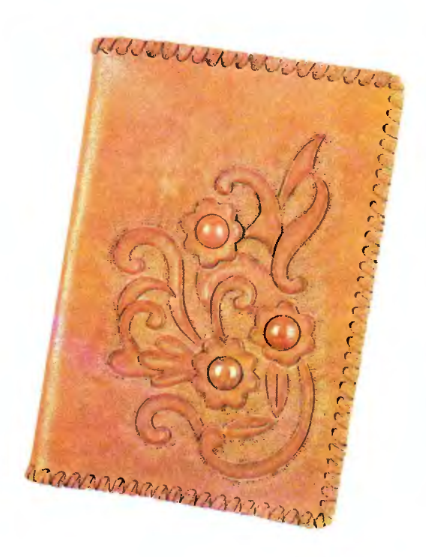 Soak the main part in hot water. An hour later, blot it between layers of paper or wrap in a towel.
Translate the drawing to the tracing paper. Put the tracing paper on the skin and awl, with a little pressure, transfer the drawing to the workpiece. Remove the tracing paper and correct the drawing.
Aquarium fishthe best gift for family or friends. Fish not only reassure, but also bring a certain freshness to the interior.
Technique of image processing - cut with hem. The cut is performed with a knife, which cuts the skin at an angle of 30-45 °. The hem is done using stacks.
Handle flower centers for stone. To do this, place the stone in the center of the flower, engraved on the skin, and circle it with an awl.Then make another smaller circle in the center of the circle and process it with a hem. Core "drown" into the skin with a stamp.
The next step, if necessary, is staining.
Then insert the stones but the prepared places, grease the bases of the stone and the heart of the flower with "Moment" glue and press well. If the product has been colored, allow the skin to dry, then correct the folded edges of the design and insert the stones.
Apply a ribbed background in the center of the picture and around the perimeter with a stamp.
Place the side panels on the edge of the main part. A little round the corners. Apply markup for braid. Begin the calculation from the corners to the middle of the side.
Make punch holes on the intended points. The diameter of the holes is equal to the width of the strap, which is braided.
Cut the straps. If there is no long piece of leather, cut the strap from a small piece of leather in a spiral.
Flesh the cover with the "double braid" method. Start the braid, departing a little from the corner, as the end of the strap can be hidden between the main part and the side plate. During the braid, the straps will have to be spliced.
For splicing the straps you need to make the edges thinner, but then glue them together.
Related News
Save your supplies: fighting bugs in the croup
How to make Easter garlands
How to dilute alcohol with water
The first trailer of Dr. Strange: Cumberbatch on Earth protection
Profiled sheeting - building material 1