How To Cook With Cast Iron
How to Care For Cast Iron
Three Parts:
Caring for cast iron isn't difficult, but the cleaning and maintenance process is different from other cookware. But taking care of your skillet is well worth the effort, because cast iron that's properly cared for will last for decades. The key to cast iron care is seasoning the pan, as this process will give the skillet a non-stick coating and make it easier to cook with and clean.
Steps
Seasoning Cast Iron
Preheat your oven.

Set your oven to 325°F (163°C) and let it heat up. The process of seasoning cast iron involves coating it with a layer of oil and baking it. Seasoning, or curing, the pan will cover it with a non-stick surface, make the pan easier to clean, and protect it from rust.

Most new cast iron pans come pre-seasoned, but you'll have to season any that haven't been cured by the manufacturer.
You can still season a new pan if it comes pre-seasoned, and you should definitely season an old or second-hand cast iron pan before using it.

Wash and dry the skillet.

Fill a sink with a small amount of hot, soapy water. Immerse a clean sponge in the soapy water, then wash the cast iron pan. Rinse the pan under hot water and dry it completely with a clean towel.

You can also use a dish brush with stiff bristles to clean the pan.
Most people recommend not washing cast iron with soap once it has been seasoned, because the soap can slowly remove the seasoning. However, because you're about to season the pan, use soap now to make sure the pan is clean.

Coat the skillet with shortening.

Dip a clean cloth or paper towel into some vegetable shortening. Rub the shortening over the inside and outside of the skillet to coat the pan with a thin and even layer.

It's best to use a small amount of solid shortening for seasoning, because too much shortening or using liquid oil can leave a sticky residue on the pan.

Bake the skillet.

Place a cookie sheet or piece of foil on the bottom rack of the oven. Then place the skillet upside down on the middle rack. Bake the empty skillet for an hour.

The baking sheet is important because it will catch any shortening that melts and drips off the pan.

Cool and clean the skillet.

After an hour, turn off the oven. Leave the skillet in the oven as it cools, about one to two hours. Remove the pan from the oven once it's cool. Buff the pan by rubbing it with a paper towel or clean cloth to remove excess shortening.

When you're finished, the pan should be a smooth and shiny black.

Repeat as necessary.

Over time, this non-stick layer may wear away, especially if you use the pan to cook non-fatty foods. Repeat the seasoning process every few months, or when:

The pan loses its luster and becomes dull
The color changes from black to dark gray
Food starts sticking to the pan
Cleaning Cast Iron
Rinse the pan with hot water.

Clean your pan as soon as possible after cooking with it. The longer food cools in the pan, the harder it will be to clean. After cooking with your cast iron pan, hold it under hot running water. While the water is running, wipe the pan out with a clean cloth to remove food particles.

For mildly soiled and well-seasoned pans, this may be all you need to clean your cast iron.
If you're worried about bacteria because you aren't using soap, just make sure to preheat your cast iron before adding food. Cast iron heats up very quickly, and even over medium heat the pan will quickly reach temperatures high enough to kill any bacteria.

Scour with salt if necessary.

For food that's still stuck on your pan or baked-on leftovers, sprinkle the inside of a warm pan with a generous layer of coarse salt. Scrub the surface of the pan with a damp dish cloth to remove the stuck-on food.

When the food has been removed, discard the salt and scraps and rinse the pan out with hot water.

Dry the pan immediately.

Remove excess water from the pan by drying it with a towel immediately after cleaning it. Return the pan to the stove and warm it over low heat until all the water has evaporated, about two minutes.

Never let cast iron cookware air dry, as this will cause the iron to rust.

Oil the pan.

With the pan still on low heat, coat it with an additional layer of vegetable shortening, using a cloth or paper towel to spread the shortening evenly over the pan. Leave the pan on the heat for another 10 minutes.

After 10 minutes, remove the pan from the heat and set it aside to cool. Before putting it away, wipe out any excess shortening with a cloth or paper towel.
Fully seasoning a pan is a process that happens over time. As you add more oil to the pan and cook fatty foods in the cast iron, the surface will become more protected and more non-stick.
Keeping Cast Iron in Top Shape
Remove rust.

Iron is highly susceptible to rust, which can be caused when the metal is exposed to air and water. Seasoning your cast iron pan regularly will help prevent it from rusting. It's important to remove rust spots immediately if they do begin to form, otherwise they will quickly spread.

Wet a mildly abrasive sponge or scrub pad with soapy water and scrub the rusted spots on the pan. To remove tough rust spots, try a bit of vinegar on the sponge.
Rinse the pan under hot water.
Re-season the pan by coating it in vegetable shortening and baking it in the oven for an hour.

Prevent rust from forming.

There are a few things you can do to a cast iron pan that will virtually guarantee rust. To prevent rust from forming, avoid exposing the metal to moisture as much as possible:

Never immerse cast iron directly in water. Clean the pan by running water over, rather than submerging it in a full sink.
Always dry cast iron cookware fully after using and washing.
Store the pans in cupboards or from hooks with the lids off. Lids can trap air and moisture against the surface of the pan, and this will cause the metal to rust.

Avoid long-simmering acidic foods.

The seasoning layer will protect your cast iron from small amounts of acid, so it's ok to cook mildly acidic foods in your pan for short periods of time. But acidic foods that require long simmering times, such as tomato sauce, should be cooked in other cookware.

With a long-simmering acidic food, the acid can find weak spots in the seasoning layer, and this can eat away at the seasoning and start to corrode the metal.
Be sure to remove acidic foods from your cast iron as soon as they're cooked, and wash the pan immediately.

Avoid cleaning methods that can cause damage.

Always wash your cast iron by hand, and never put it in the dishwasher. The dishwasher will expose the pan to too much moisture, and this can lead to rust.

You should also avoid metal scouring pads on the cast iron, as these can damage the seasoning layer.
Harsh soaps and detergents can also remove the seasoning, so avoid them unless you plan to re-season the pan right away.

Use hot water to clean hot pans.Never pour cold water into a hot cast iron pan, as this can lead to cracking and warping. If your pan is still hot from cooking, only use hot water to clean it.
Community Q&A
Question

Can cast iron be used on a glass cooktop?

wikiHow Contributor

Community Answer

Yes, it can. Cast iron is stovetop-, oven- and grill-safe.

Question

How do I clean an already seasoned cast iron skillet?

wikiHow Contributor

Community Answer

Use only hot water, never soap. It is easiest to clean shortly after cooking in it, just wait until it's cool to the touch. If you have stuck-on food, a little salt is a gentle abrasive and won't hurt the seasoning - just use a scrub brush, but not steel wool or anything similarly harsh. Put it on the stove over medium heat for a few minutes to make sure it's completely dry, then use a few drops of oil or cooking spray to keep it from rusting. Apply the oil while the skillet is still hot, and rub it in well with a paper towel; you don't want oil puddling and it shouldn't feel especially greasy when you're done. Remove from the heat and let it cool completely before storing.

Question

I have a cast iron bacon press with a wooden handle. Can this be put in the oven to season it?

wikiHow Contributor

Community Answer

Find a way to remove the wooden handle first. You should probably be safe to put it in the oven at that point. There are videos that will show you how to remove handles like that on YouTube.
Ask a Question
200 characters left
Include your email address to get a message when this question is answered.
Quick Summary
To care for cast iron, clean it as soon as possible after using it by wiping it down with hot water and a cloth. If there's still food stuck on it, try scrubbing it off with some salt. After you clean cast iron, make sure you dry it off immediately so it doesn't get rusty. If rust does form, scrub it off with white vinegar and a sponge. On top of cleaning, you should re-season cast iron after each use by coating it with a layer of vegetable oil, which will help prevent food from sticking to it.
Video: Let's Settle This: How to Care for Cast-Iron
How to Care For Cast Iron images
2019 year - How to Care For Cast Iron pictures
How to Care For Cast Iron advise photo
How to Care For Cast Iron foto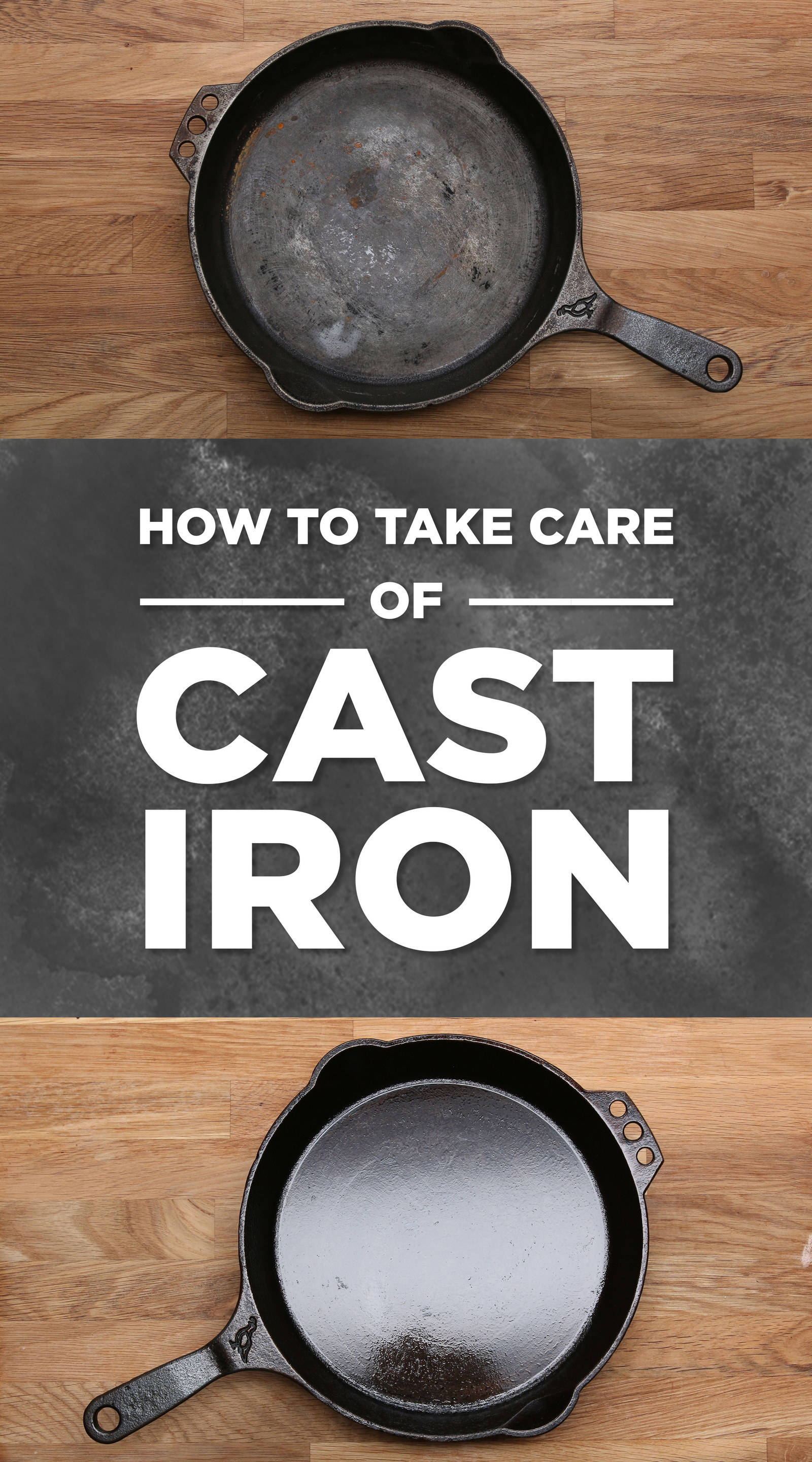 How to Care For Cast Iron new pictures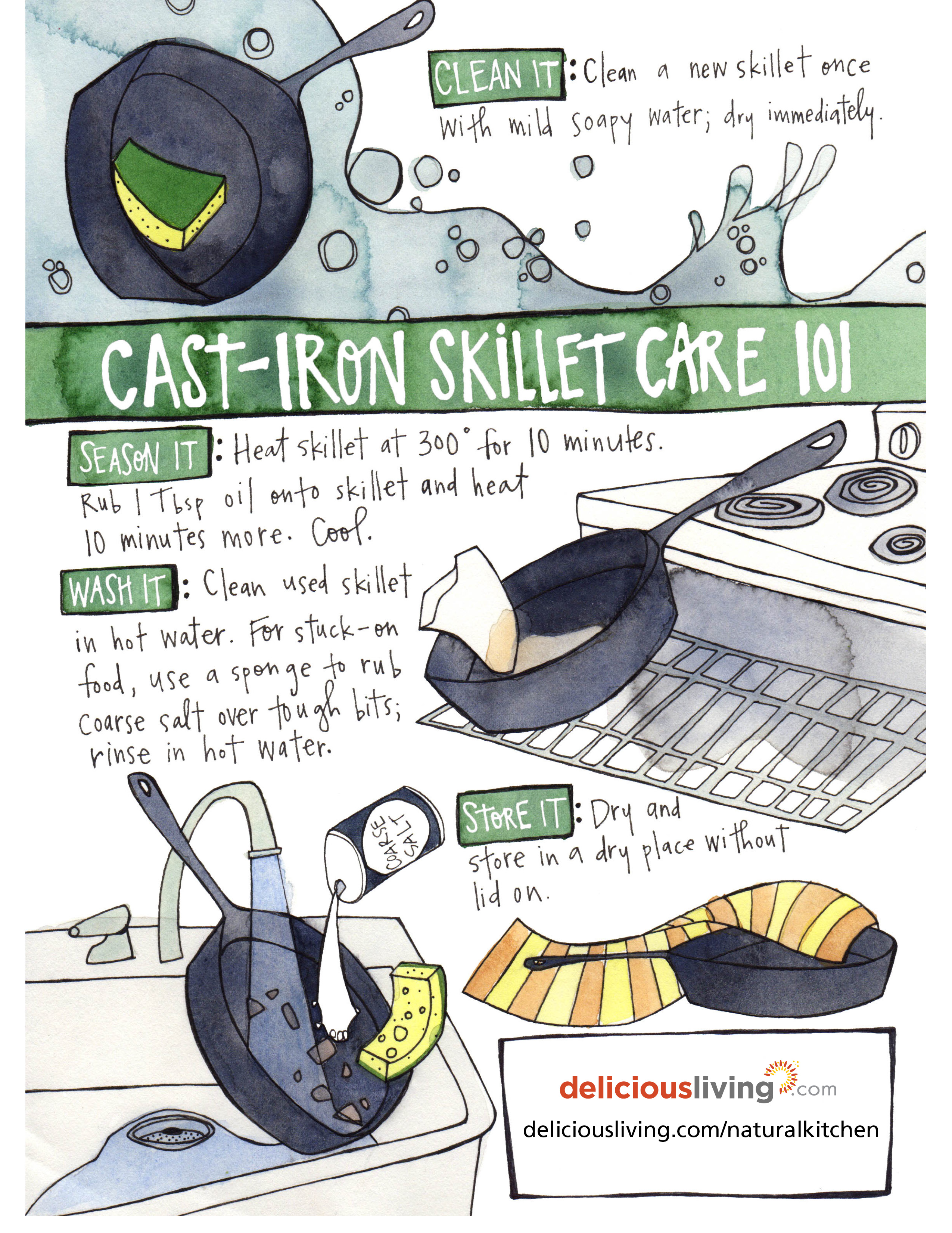 pics How to Care For Cast Iron
Watch How to Care For Cast Iron video
Discussion on this topic: How to Care For Cast Iron, how-to-care-for-cast-iron/ , how-to-care-for-cast-iron/
Related News
Mupirocin
Calculators Doctors Use May Overestimate Heart Risks
How to Make a Duct Tape Wallet
7 biggest quotes from Peter Thiel interview with NYTs Maureen Dowd
10 Most Common Questions Im Asked about Chronic Pain
See the Beautiful Photo of This Bride Breastfeeding During Her Wedding Ceremony
Emily Milam
How to Carve an Egg
Fish Veronique
10 Probiotic Foods You Should Never Eat
Off-Roading the Atlantic
Banana Chai Oatmeal Smoothie
7 signs you might be a functioning alcoholic
10 Money-Saving Grocery Tips
Khloé Kardashian Reveals that Kendall Jenner Was Thin-Shamed GrowingUp
Date: 19.12.2018, 13:26 / Views: 85133
---