How to determine that the timber from the winter forest
Not so long ago, during the construction of a wooden house, instead of the usual timber, a special look was used, namely the winter timber. Such a material has a large number of advantages, namely, excellent density and strength, fast and good shrinkage, and plus a relatively low cost. But, taking into account the popularity of this type of timber, it is worth noting that it is very difficult to choose it, and therefore, in order to go in search of quality material, it is worth getting familiar with the selection rules.
You decided to builda house from a bar 6x8but do not know how to choose the right material? Then, the first thing to understand is that there are no clearly defined selection criteria. The first thing to find out before purchasing is the production date. It is logical that the wood that is made in winter is winter. After you figured out the date, you need to make an external inspection of the bar.On the winter timber, the color of the ends will be light, and if the timber was harvested in the autumn, it will be dark due to the abundance of rain in the autumn.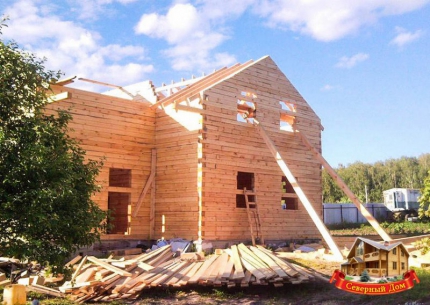 The next criterion is dirt on the ends. Next in the course should enter your observation. Ask the seller about the manufacturer and ask about the weather conditions in the area. If a warm climate prevails in the region and winters are warm there, then you cannot determine anything by the presence of mud. If you know that in the place where the given log house was produced, the climate is cold and the winter snowy, then it is logical that there should be no dirt on such a bar.
Next, you should pay attention to the complexity with which the frame is sawn. Winter wood is drier than summer and therefore it is easier and safer to cut it. Moreover, the place to cut such wood is smooth and without waves. This method of identifying a winter tree is the most accurate, since almost all summer logs have a wavy surface in the place of the cut.
If you prefer a more scientific approach to choosing a tree for your home, then ask the seller to drop iodine onto the log before you buy.The winter tree contains an increased amount of starch, therefore iodine will color the wood in blue color. Also, during the selection of wood moisture you can use. The winter tree is a summer tree, and therefore the amount of moisture will be very understated. If you choose a finished timber, then pay attention to its surface: if you see roughness on the timber, then most likely the timber is summer. The winter tree is easily processed and rarely leaves any errors on the surface.
Related News
Original T-shirt
Paper Ball
Decoupage of furniture
Fast soldering method for large diameter conductors
Designer drawstring manufacture