We decorate the living room in high-tech style with our own hands
Interiors in the style of high-tech like many people, especially young people. These interiors look original, interesting, progressive, fashionable, stylish and modern. Of course, due to the use of large amounts of metal and glass, they are often cold, but if done correctly, the interior will not be impersonal. On the contrary, the design can be cozy and even "home", it all depends on your efforts and preferences. In addition, we should not forget that the interiors in the high-tech style are laconic, which means that they are comfortable, because most of the space of the apartment remains free. Making a living room in this style will help you make a favorable impression on relatives and friends who will come to you, as well as make your vacation more comfortable.
First, you need to select the finish of the room. The ideal option - metallized wallpaper, but you can also use a material that imitates metal,or plain wallpaper of a cold shade. Suspended ceilings with built-in lighting, as well as floors, tiled or laminate. Keep in mind that interiors in high-tech style are characterized by a combination of glossy and matte surfaces, not only in furniture, but also in decoration. How exactly you organize this combination will determine the beauty of the interior.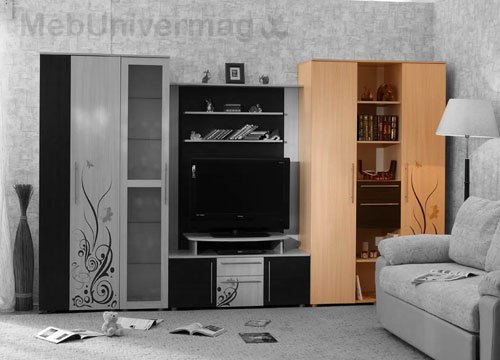 Now you should choose furniture for the living room. First of all, you need to select the elements of the soft corner, i.e. armchairs, sofa and coffee table. Upholstered furniture should have strict clear forms. The best option - rectangular sofas without smooth lines and rounding. Such pieces of furniture are not hard to find in modern stores. If you want to decorate a neutral, calm interior, choose furniture of cool, reserved shade. If you want to add a bright dominant, buy a sofa and armchairs in orange, purple, yellow or another color. The main thing is to combine furniture with decoration. As for the table, preference should be given to products with a glass tabletop and metal or wooden legs.You can buy a plastic table, but this is less preferable.
You will also need racks or shelves for books and other things. They should be concise and at the same time original. Ideally, preference should be given to unusual options: for example, a bookshelf in the form of a diamond, a rack with an original arrangement and slope of the shelves, etc. This will make the interior more interesting. In addition, do not forget that the use of decor is not typical for high-tech style, so furniture will eventually become a decorative element.
Do not forget about the use of technology. The interior of your living room must necessarily be high-tech. High-quality TV with a large diagonal, lamps that turn on and off for cotton, and other pointedly modern things will make your interior more stylish and high-tech. For high-tech interiors, this is an important requirement.
Related News
Fast soldering method for large diameter conductors
American bow
Chocolate Cupcakes with Liquid Filling
Tree with leaves and flowers
Effective sea buckthorn masks
Amplifier on STK402-020STK402-120
Surprise Postcard
Bimetallic radiators